hmm today was awesome. except for the fact that i broke TWO nails. lol its alrite tho. i can get them done for free!!
but yeah today was my first REAL training day at Target.. its cool.. haha i gotta remember this LONG number in order to sign on to my register. lol its like 53469048 ?? maybe not?? lol.. but anyways.. it was awesome for my first day of training,.
SWEETY GOT HER HAIR CUT!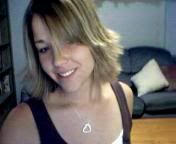 <3in it!